The importance of self-love and the joy of an independent life are undoubtedly the desire of every successful woman. This was also the vibe that radiated from the businesswoman featured on our cover this issue.
Perhaps each and everyone of us have once been inspired to do something beyond our inherent limits. Had it not been for the chance encounter with the founder of Group Financière B'Lao, the young Nguyen Tri Thuy Tien would have continued her promising management career at an international bank after finishing her MBA in the UK. But life is full of unexepected turns, and one different "choice" can alter the entire journey. She was truly touched and convinced by the choice that a French corporation like Financière B'Lao made – choosing her hometown, the humble city of Hue, as a starting point instead of major cities. Most importantly, it was the sense of responsibility that the group displayed through its pursuit of sustainable values that motivated her to improve herself. It was here that she realized how individual strengths were put to optimal use in resonance with the goal and benefit of the collective, and the interest of the many always outweighed the interest of the few. Throughout the many years working with the group, she always takes pride in the companionship of its humble staff. And joining us today for the interview is that same Nguyen Tri Thuy Tien, the youngest female director in Group Financière B'Lao who has always been tasked with the most crucial responsibilities, and who is now in charge of yet another important position: Managing Director of Corèle V – the group's new and challenging "start-up" in the lingerie industry.
Greetings businesswoman Thuy Tien. The story of a senior director in finances now putting her maximum effort in running a lingerie brand seems to have a rather intriguing beginning. What were your feelings and thoughts when you first entered the retail world of this item of clothing?
I finished my MBA, worked at a bank, then moved on to join Group Financière B'Lao to take charge of its financial and commercial operations, all at a very young age. And the fact that I became director of a lingerie company, therefore, was purely coincidental. 2 years back, our group decided to establish Corèle V to produce and distribute this French lingerie brand in Vietnam, and the question became, who would be in charge of its development. I was the chosen one.
As the company's very first member, I began to build up Corèle V's entire operations with my experience in business management and strategy. What I'd never expected was how deep I became involved in the lingerie industry with just those few probing steps. Now as manager of a young and green start-up, I came to realize that a leader need not be the best in a certain aspect but have the ability to recognize the talent in each member of the staff and bring them together as one. This is particularly necessary considering that I'm running an international lingerie brand and a multi-cultural staff coming from all different places and possessing all different personalities. With that in mind, I adjusted the company's strategies and future directions, and somehow became so attached to it now.
What are your biggest concerns when doing business in such a distinctive market?
Corèle V currently employs some of the most renowned lingerie designers in France like Cilia Boes, Pierre Martinez,… who have had years of experience working in many world-class brands, but we still met with great difficulties when coming up with exclusive designs for Vietnamese customers. It all came down the difference in the Vietnamese, especially women's, demands for lingerie when compared to international standards. Upholding the design standards and marking the brand's signature while still satisfying the consumers' needs and preferences, all with a melting pot of nationalities and opinions of a crew, that was one of the biggest concerns that required my utmost focus in our early days.
The lingerie market in Vietnam is quite harsh since any manufacturer can enter it. Consumers are quite receptive and buying brand name lingerie is not their top priority. Not every one of the have high requirements for product quality as well as the accompanying services. Moreover, because undergarments often come into contact the body's sweat glands and muscle tissues at delicate skin areas, scientifically speaking, dressing hygiene, especially that of lingerie, is just as important to our health as eating hygiene. In this spirit, Corèle V was launched into the Vietnamese market with the concept of "safe lingerie", which remained unfamiliar to most consumers, and that's why this is also a concern that requires my special attention.
After over 2 years running Corèle V, what do you think a lingerie brand needs to accomplish to make a name of itself on the market?
First, high product quality and reasonably matching price. These two elements, for me, must never be compromised. Of the two, product quality must not only retain the brand's signature but also adapt well to the market.
Vietnamese women nowadays are keeping up with the latest trends very quickly, which is why I often tell my staff that there's no "best-seller" but "best-demand". I believe that in the fashion, particularly lingerie industry, the more attention you pay on "fitting" – tailoring your product to fit a consumer's build, the deeper the impression you strike on them. No one is satisfied with a product that they don't feel comfortable using, no matter how attractive it may seem. Therefore, we are one of the few lingerie brands that have put together a "body" library in order to study the body parameters of Vietnamese people with the help of top experts. I believe that by providing the most fitting and comfortable experience, a lingerie brand will be able to establish a strong connection with their wise customers.
With that in mind, what are your next goals to bring Corèle V closer to Vietnamese women?
The more I get to know it, the more I realize that lingerie is more of an essential product than a just a fashion item. We endeavor to satisfy every demand and preference of Vietnamese women while ensuring the "fit to comfit" criterion. At the same time, we seek to reinforce the brand's defining trait that is the French elegant beauty, but will find a way to make the message more approachable for every Vietnamese women while also adjusting our designs to be fit for many different body shapes and builds (or Beauty Inclusive). This is an ongoing effort that Corèle V has been making. As for our goal in the next 3-5 years, we hope for every Vietnamese woman to possess at least one Marguerite product in the generic secgment or one Corèle product in the medium-high segment.
In order to achieve this, we have to focus on market research and dig more into what Vietnamese women truly desire. Most of our staff share the opinion that the Vietnamese market is too difficlt to approach, but if we were to become the leading brand in "fitting", or "wear to indulge", we have to come up with a distinctive "fitting" parameter for the Vietnamese physical build.
As mentioned above, the Vietnamese consumers' demands and standards are quickly changing, and this is the chance for us to redefine our brand. Our top priority is honesty towards our customers, by applying a revised price list to all of our product lines, allowing everyone to purchase without having to wait for a discount. Along with that is the concept of "safe lingerie" with a view to provide the most health-friendly products. In addition, we don't seek to raise consumer demand and force them to make multiple purchases but encourage them to buy at their own needs while also enhancing our values by improving product durability. Moreover, we're also making an effort to use materials that are both of good quality and environment firendly (or Eco Responsible), including packaging materials, coupled with the plan to make our manufacturing supply 100% domestic (which is now 60%). All of these goals help us demonstrate our sense of responsibility towards customers as well as the environment in compliance with sustainable criteria.
Throuhgout the past two years of operation amidst the Covid-19 situation, how has Corèle V adapted to the pandemic's influence in terms of business strategy?
When the pandemic first struck, I expected the situation to last for a while. Therefore, in order for a retail company to survive it, and in addition to our pricing adjustment strategy, I and my partner quickly turned out eyes to e-commerce. Our principle is to provide online customers the same shopping experience, both during and after purchase, as if they were shopping at our shop in person. At the the same time, we also reorganized the distribution system to be leaner and more effective by strengthening our partnership with distributors who shared the same vision.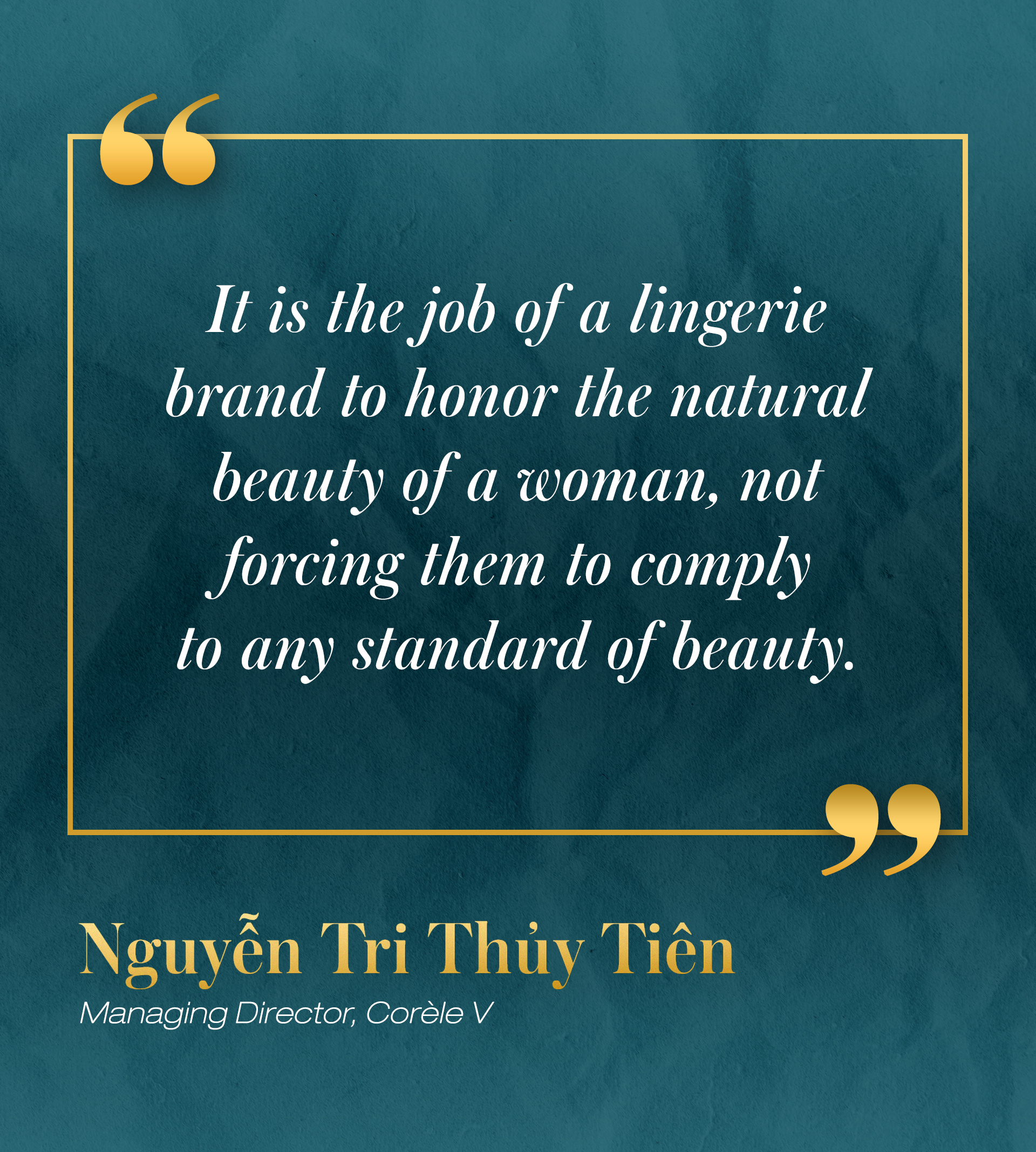 In addition, I also directed my focus on our internal operations. Nobody for wished for it, but the pandemic still had a certain impact on every business and every individual. As an incentive, all benefits and privileges for Corèle V staff remained unaffected, and the management board would send out an encouraging message in every meeting, urging everyone to stay strong and never give up. Some had decided to part ways with us, but it was also the time that most reminded both myself and everyone else of "responsibility", the guiding compass of the entire group.
Be responsible in all you do, and you shall find the right way. I believe that this is the time for us to cleanse ourselves of everything that is redundant and displeasing, and keep a clear sight of those that actually create values.
How do you see the big picture of the lingerie industry in the near future, and what role does Corèle V play in that picture?
It will be a bright one, I believe, where everyone pays more attention to their inner values. The buy-less-use-more trend will set in, making an emphasis on simplicity and durability. More importantly, as the self-love mindset becomes more and more prevalent in the society, undergarments will become more and more essential. It is a trend where we return to our true self and learn to accept it.
For Corèle V, this will also be the time when the Marguerite and Corèle brands meet the need of the many. Having set out a clear course in this direction, we will never cease to listen to and focus on our customers. In the long run, we will, with persistence, continue to pursue our core value, "responsibility", to the society, to our customers, and to the environment.
With over 33 years of investment and operation in Vietnam, our group has become one of the top corporations in the lingerie industry, not only France but also in Vietnam. We have provided stable employment for 20.000 staff in Vietnam, with the plan to welcome over 10.000 more within the next 2 years. This is a high-priority task at Financière B'Lao that shows our sense of responsibility to the society and community. Every member of our staff are professional trained in accordance with international standards, and the value of responsibility has always been the red guiding thread through our every step. We care deeply about the land we find ourselves on, where we place our factories for instance, by putting development projects in motion to improve the local education, living environment and overall wellfare. A typical example is the kindergarten system applying the innovative Montessori education in Phong Dien, Hue that we have been developing over the past 4 years, which has provided schooling for over 200 children of our local staff, from factory workers to members of the management board. These education projects are also accompanied by the full scholarship program for underprivileged students towards our goal of providing "Life-long education" in Vietnam.
Toward our customers, we always try to offer them good product quality and dedicated service, while coming up with products that are truly approachable and safe at a very reasonable price. As for our responsibility to the environment, we're conducting research to incorporate natural materials into our lingerie products, with a bamboo-inspired collection about to be launched.
As the youngest member of the Group Management Board, how did you feel when you were chosento become Managing Director of Corèle V? What have you learned since then?
I was quite hesitant despite having worked as a manager at Group Financière B'Lao for a long time. But the Chairman said something to me that put a lot of that pressure off my shoulder: "No one can be perfect, but one can always be most perseverant in their duties". It was with this frame of mind that I ventured into this industry without much experience, knowing that I would do well in it. I always find myself fortunate to be surrounded by responsible, talented, and supportive colleagues at all levels. They have always had my back and given many an opportunity to learn from them and from my own mistakes. The Corèle V collective staff is like a flock of swallows, each one of them flying in a designated direction, with their own tasks and duties under a united organization, and each playing an equally important role in weaving the lively veil of spring.
At first, there were inevitably a few clashes of opinions between such a young member as me and the other senior managers, but now in retrospect, I realize how narrow-minded I was, unable to see the big picture and develop a multi-aspect perspective like my predecessors could. With time, I came to reckon that a good business manager must be one who's always humble with an "I know nothing" mindset in order to learn more from their colleagues.
Moreover, the lingerie industry is a blend of retail, fashion, and consumption, which explains why it can be both rigid, or systemic, and creative, or intuitive, at the same time. And on this journey of becoming a female manager, I am still learning how to balance between the two brain hemispheres, to make the most appropriate decisions in this environment. As I often tell my staff, Iam here to make decisions and be responsible for them. I am open to suggestions but must also be decisive. I will stumble at times, but it's important that we respect each other, and together we will find a way out.
As a female director, what is an exclusive advantage that you have over your male counterpart?
I can be very flexible when necessary, which is the biggest advantage that women have in management. Particularly when the situation requires subtle handling, women have the upper hand over rmen. In addition, most women possess high multi-tasking skills, a sophisticated administrative weapon that not all men have. However, professionally speaking, there should be no gender discrimination at the workplace. It doesn't matter whether you're a man or a woman, I believe we should all do our best to fulfill our duties.
What is your business management philosophy?
I have a motto in staff management, "right your wrongs", which means I always give everyone, mysel included, a chance to make up for our mistakes, because you can't always be right. What matters is that when problems emerge, instead of explaining and looking for excuses, we need to come up with a solution. Those who work in my company have to be willing to ask questions, to raise their voice, and to make suggestions, so that every problem can be thoroughly understood and properly resolved.
Another principle of mine is to always have a back-up plan. Napoleon once said:"80% of the battle is won at preparation". That's why we can always alter our business plan whenever necessary with many contingencies in hand.
As a director in the lingerie industry, what do you make of a woman's beauty?
I don't think there is any formula to calculate. There are as many kinds of beauty as there are people in the world, and the same can be said for lingerie. It doesn't need any standard for beauty. We cannot please everyone, all we need is uphold the fine customs, the kind values and codes culminated by the society. To live is to adapt, to behave in a morally appropriate way, and that creates beauty.
I believe every woman has a distinctive trait that makes up her beauty. They just need to focus on what makes them special, nurture it and see it bloom into perfection. That's how you leave a lasting impression of your beauty.
What do you wish to change in Vietnamese women's opinion on beauty when they buy a Corèle V product?
I wish that a woman who loves Corèle V will not be so harsh on herself to achieve perfect body measurements. Instead, they should become aware that each and every one of us possess a different body shape, and as long as we are confident about it and honor its beauty, that's all that counts. We wish to empower more women to take pride in their body, no matter shape or size. With confidence, they will find comfort. Know that you are wearing the lingerie and vice versa. It is the job of a lingerie brand to honor the natural beauty of a woman, not forcing them to comply to any standard of beauty.
The world of lingerie makes us think of a person's less obvious inner values and beauty. Do you have a way to nurture these values and become the best version of yourself?
I was a rather hot-headed and unyielding type of a person before, but after going through a long and arduous "de-stressing" process, I have learned to enjoy an independent life and absorb every moment of joy and happiness. When you feel truly happy, even if for a few seconds, it will stay with you, and eventually helps you focus on yourself and live your life to the fullest. Whenever and whatever you do, do it with everything you have, enjoy a dish without checing email or looking at your phone, and get to work with that same excitement and enthusiasm to take any challenge standing in your way. I want to make an emphasis on focus, the more you focus on what needs to be done, the easier it is to make plans to balance between your work and life.
Thank you for sharing!
Text: JENNI VÕ, HỒNG ĐẶNG | Creative Director: HIEPLEDUC | Translated by HÒA TÔN | Photo: NICK NGUYỄN | Hair&Makeup: VIỄN DƯƠNG | Stylist: THUẬN TỪ | Venue: SAIGON'S ELITE
Read more:
Comment