Taking charge with the "turn what you don't know into what you don't know YET" mindset, that's how tech businesswoman Nguyen Quynh Tram – Microsoft's new Country General Manager in Vietnam, found the strength to believe in her own competence.
For many years, the field of technology has always been considered a male-dominant area, but today it is going through major changes as more and more women are rising to become excellent tech leaders. Many tech giants are no longer hesitant when appointing female leaders with a hope to promote an innovative world of technology in the future. The inspiring story continues in Vietnam, as Microsoft Vietnam has recently given the rein of Country General Manager to a seasoned tech businesswoman. Let us meet with this issue's Woman of the Month figure, Mrs. Nguyen Quynh Tram – the newly appointed Country General Manager at Microsoft Vietnam. A woman with 20 years of experience in several key positions in the technology and telecommunication field, how will "tech general" Nguyen Quynh Tram fulfill her responsibility in this new role?
Greetings Mrs. Nguyen Quynh Tram, and congratulations on your new role at Microsoft Vietnam. As a female leader, and one who holds the highest responsibility for all operations in Vietnam of one of the top multinational technology corporations in the world, do you feel any pressure or concern compared to your previous positions?
Having been in various managerial positions over the past 20 years, I understand that being a leader means having to accept and adapt to changes and the inevitable burden of responsibility. Every leader has to acknowledge the fact that no matter how good they are, there always remains something they don't know yet, and that they need to keep exploring and learning in order to fit into a new position. With that in mind, I don't see this new role as a burden, but as an opportunity to contribute to my homeland, to become a bridge between Vietnam's technology and the world's. My belief is that everything in our life comes at the exact right moment, and what matters is how we embrace and make use of it.
I am thrilled and proud to become a member of Microsoft Vietnam – A tech corporation with a history of 47 years and the very first US company to establish a representative office in Vietnam, since 1996. Now that I'm part of the crew, Microsoft Vietnam, I believe it's time that we bring the world's finest technologies to Vietnam, and on the other hand, bring the talented people and technological strengths of Vietnam to the world. This is a prime opportunity not only for me, but also for business organizations in Vietnam to chip in and contribute to the growth of our country's economy as well as technological power, especially when Vietnam is one of the most potential markets that Microsoft is aiming at. I consider every job opportunity with a positive mindset, and whether it turns out to be a success or a failure, one thing is certain, that I will always gain another valuable lesson in my career.
In this new position at Microsoft Vietnam, what do you and your crew expect to accomplish?
As the face of Microsoft in Vietnam, I take full responsibility for promoting the process of digital transformation in every area, with a view to contribute to Vietnam's ambition of becoming a high-income economy by 2045. To many people, Microsoft is just a company that sells computers, but over the past 4 decades, it has been actively working towards building a supercomputer and aiming to provide solutions on an extensive and flexible ecosystem. In that spirit, I hope to support my country by boosting Microsoft Viet Nam's contribution to its GDP and national budget. To be specific, we will help businesses in Vietnam improve their operation, both domestic and foreign, by applying technological solutions, thereby optimizing their organization, administration and production, establishing an optimal work procedure and boosting satisfaction and bonding among internal staff, as well as for partners and clients.
What principle are you applying in managing as well as inspiring your crew?
Instead of seeing myself as a leader of Microsoft Vietnam, I feel more like a coach who is happy with every victory of every member. In a collective, a victory always comes from team effort. And being able to make everyone understand each other and work together to solve a problem effectively is the key to being a coach. A leader's point of view may not be suitable at times to handle a problem thoroughly. Leader must learn to accept that things may fold out as expected, but sometimes they may not, and there are things that may seem effective for the time being but may leave consequences in the long run. That's why, just like a coach, a leader must know how to unite their team, and allow each member to have their own voice, to raise their different opinions and contribute to the ultimate benefit of the company. Each member has their own standing and position, and my responsibility is to create the most comfortable atmosphere where everyone can share their mind regardless of age, gender, or seniority. In this position, I even spend more time with my colleagues and the company then my family, so company feels like a second home for me, making it a must for those living under that same roof to be kind to each other and solve any common problem in good will.
Were these principles established from your own success or failure, or did they come from a role model which you admired?
Perhaps my very first role model in life is my mother. She was one of the first female mechanics lecturers in Vietnam, and a joyful, modern mother. A woman of her profession, she always taught me: "Never waste your "Force"". In your life, once you've decided to use "force", that is, when a forceful and decisive impact is required, you have to make sure that you put it in the right amplitude, the right location and at the right time. Expanding on that thought, once we've decided to do something, we have to see it through. You either do it or you don't, there's no test run. Give your thoughts and consideration for the result, consequences even, and make a plan to handle each possible scenario.
In addition, I've also had the fortune to meet and learn from excellent seniors. My experience shows that, nothing is negative, only a person's thought is. Whenever you feel happy or sad, share it with those around you, for they can never guess what's on your mind. I especially enjoy learning as I believe that a person's capacity as a leader is shown by their flexibility and aspiration for learning new things. I'd like to think of myself as a sponge, being able to absorb and accumulate knowledge various sources. It is this mindset that has always kept me eager to explore the unknown, challenging myself in a wide range of professions to acquire more skills and expand my vision. The further you see, the wider the road is, and the more competent you become.
What do you think about the development of the technology industry in our country? And what do you expect the next stages to be?
Technology is perhaps one of the most potential areas in Vietnam. We currently possess over 400.000 programmers with an overall quality that could very well be in the top 15, if not top 10 worldwide. Generally speaking, most tech companies in Vietnam are proficient and well-oriented thanks to their open-minded thinking and aspiration for innovation, and a few individuals among them have successfully brought Vietnam's technology to the international playfield. With more advances in technology and greater government support, I believe that Vietnam will become a dynamic hub for technology development in the near future and a cradle of exceptional talents who, in due time, may turn this into one of the country's major export areas alongside the conventional ones.
The Covid-19 pandemic outbreak has allowed us to witness first-hand how important a role technology plays and why it has become an inevitable trend. Our usage behavior towards technology has also shifted dramatically, forcing tech companies to adapt quickly and make use of every exploitable opportunity. In my estimate, Vietnam's Internet economy will have grown tenfold by 2030, compared to 21 billion USD in 2021. Vietnam is also expected to make it to top 40 countries with leading achievements in a new global index, and top 30 in the Global Cybersecurity Index by the International Telecommunication Union in the year of 2030. This goes to show that technology is bringing about countless opportunities and having a strong impact on many crucial sectors like business and education, while offering a vast number of useful applications in the community life.
The field of technology has always been considered to be "rigid", but as a veteran female leader in the industry, how true do you think that opinion is? And do you suppose that a leader in this field have to adopt any specific method of administration?
Without a clear purpose for its application, technology is nothing but a tool. To be more precise, we have to treat it like a platform that serves our strategic purposes. Bear that in mind, and you shall realize that the technology industry is in fact quite flexible and adaptive to any solution. The "rigid" notion that many people hold is only true for machines and equipment.
Throughout its history, technology has gone through many transformations, but has never been intended to serve a solely materialistic purpose. The only goal of technology is to serve and deliver a solution to the humankind's multivarious needs. When it comes to being a tech leader, I appreciate the composure when encountering problems and the ability to analyze them objectively and thoroughly. Next in line are the highly disciplined work spirit and preparedness to sketch a solution. Although nothing will ever go perfectly as planned, being well-prepared will help you handle anything that comes your way in a flexible and timely manner.
Being a Vietnamese leader in an international corporation as Microsoft Vietnam, you are the pride of the Vietnamese businesswomen community. So, in your opinion, how far has your fellow Vietnamese businesswomen and managers advanced in the field of technology?
This is also one of my concerns. At the moment, I can only name a few female faces in the technology area, but that doesn't mean we lack the talented female work source. At Microsoft Vietnam, the male-to-female ratio is quite balanced at managerial level. Our focus is not age or gender, but how to offer everyone an equal opportunity and a nurturing environment to maximize their potential. I'd very much love to, in my current role, be able to contribute to something that will inspire and encourage more and more young women to pursue technology – an area that is growing exponentially and teeming with opportunities. As I've mentioned earlier, technology is very flexible and human-oriented, making it the perfect match for all the strong qualities that a woman possesses. In addition, women are natural problem solvers, especially complicated ones, while their business acumen and meticulous observation allows them to interact with partners and clients effectively. These are the highly sought-after skills in the field of technology.
I believe that a problem is only difficult when you think it is, instead tell yourself that you can make it and learn something new, and everything will be possible. That's just how women are, fully capable of doing the impossible. The matter of gender has never come across my mind when entering the technology field, my only concern was whether it provided me any good opportunity and whether it was career worth pursuing. Life is full of choices, step forward and don't give up before you try something. Think about the worst-case scenario, if you can still accept it, why not give yourself a chance to learn and become better?
How did you acclimatize yourself and adapt to the working environment in the technology industry when you first started out as a fresh graduate?
Just like any other young female graduate, I was unsuspecting and had a rather naïve perspective of things. But I never allowed myself to give up, learning from my mistakes and equipping myself with more knowledge along the way. Success or failure doesn't matter and being young gives you the privilege of failing, but if you look closely at those failures, there is a sea of valuable lessons you can learn from. Everything is a process, and there's nothing certain that we'll know everything. But with enough curiosity and insight, you will always have the chance to discover something new and the best direction in any situation.
What would be the most practical advice you'd give to the young women community who are also yearning to build their own career?
Be inquisitive, seize your opportunity when it comes, challenge yourself and never say never. If you don't stay active, you will fall behind and face more and more challenges, no one wants that. Don't be afraid to bite more than you could chew when given the chance, for it will only help you grow even better. Someone once told me, a woman seeking a successful career must make 3 right choices: first, a husband who gives you enough space to grow; second, a leader who has high expectations but remains objective towards their employees; and third, someone who shares the burden of domestic duties. This is absolutely true and highly practical if a woman is to focus on building a successful career while fulfilling other aspects of their life.
Does your pursuit of a career in technology have any impact on your personality and behavior outside of work?
Calling it an impact may not be entirely accurate, but rather a nurturing and perfecting effect on my innate qualities, that is, curiosity and analysis acuity. The hardest thing in technology is to analyze the trend as well as its potential and range of impact. Moreover, while technology grows at an astonishing speed, we have to be even faster, which helps me keep my mind sharp and my learning spirit inspired. The macroscopic vision of a leader also widens my perspectives, thinking more about my responsibilities towards country, community, and family than only towards myself.
Let's put work aside. How do you see yourself as a mother?
I'm a rather laid-back one. For me, education is equipping children with the knowledge to ask, not spoon-feeding them the answer right from the beginning. It is their responsibility to seek answers for their own questions. When my children express a certain passion for something, I always encourage them to try it out and stick with it. There might be a lot of hardships and undesirable outcomes, but as long as they don't quit, they will discover the beautiful things in life, while also bolstering their sense of discipline. My philosophy is to never give up, and I try to pass it down to children. Nothing will ever live up to our full expectation, we just have to dig deep and learn how to overcome each obstacle that stands in the way, and in doing so, realize that things you've always thought to be true may not turn out to be. Be humble with success and tolerant with failure.
I have heard that, outside of work, you also have very feminine hobbies like baking and jewelry designing. Is this your way to balance the logical and rigid nature of the technology profession?
I think it's the same for everyone, those who work in mentally taxing jobs often seek to participate in more physical activities to keep a balance in life. As a history and culture geek, I'm particularly fascinated with jewelry designs that are inspired by traditional materials. Under each item of jewelry lies a story that the artisans tell through their craftsmanship, design, material and even crafting technology. I adore the meticulousness and perfection in jewelry design. Looking at this work of art, you can feel how the maker put their skills to work, and how they analyze the product's level of perfection compared to reality. In addition, I also enjoy baking and see it as way to express my love and care for my family. My children are crazy for my pizzas, so when I can put work my behind back, I often bake for them and spend the happiest moments with each other.
Looking back at your career path, what do you feel most proud of?
What I feel most proud of is being able to maintain the same curiosity and energy to readily embrace the unknown. I'm also proud of my long-lasting, precious relationship with my friends. We may have different opinions in life, but our friendship always remains strong. This goes to show that even though every individual is different, not sharing the same idea at times, but if we make room for mutual understanding and respect, those differences will come together like the pieces of a puzzle and complete us all. I believe this is the best way for us to become "rich" in knowledge and generous towards difference, instead of limiting ourselves in a circle of those who think and live like us.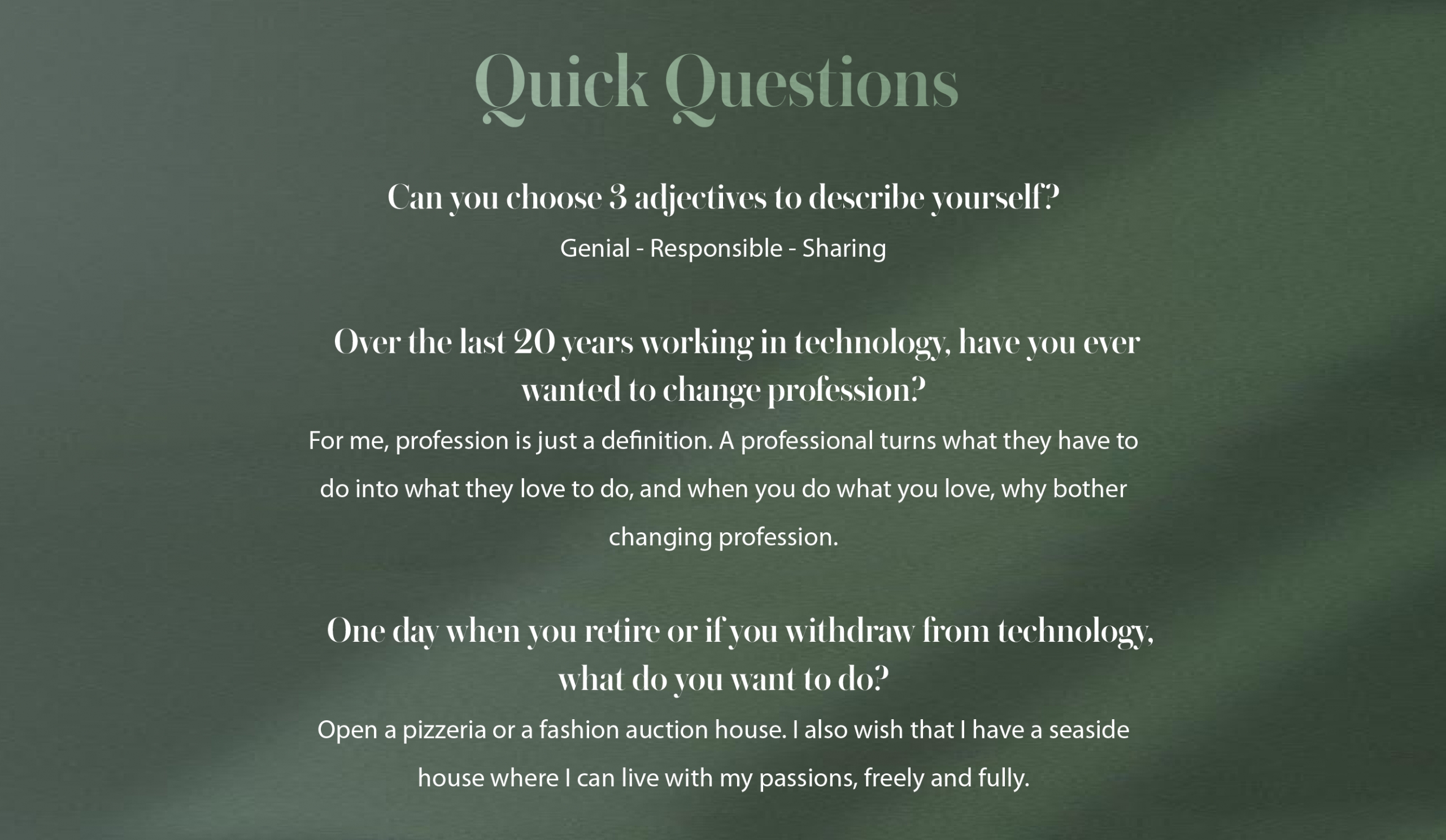 Content Director: JENNI VÕ | Creative Director: LÊ ĐỨC HIỆP | Editor: HỒNG ĐẶNG, AN MI | English Translation: HÒA TÔN | Photo: THẠC TRƯỜNG GIANG | Graphic Designer: HUY HỒ
Read more:
Comment