Many among us succumb to the storms of life at one stage or another. But there are also those who defy hardships and adapt to conquer them. And in the case of businesswoman Anna Trần, self-transformation is the way to break from boundaries and further pursue one's career passion on a self-defining journey.
Greetings Mrs. Anna Trần! Considering your starting point as a dentist, why have you decided to get involved in business and open a dental clinic of your own?
Ever since I was a student, I have always acknowledged my latent potential as a leader, being elected class monitor up until university. Therefore, while striving to carry on the family's proud tradition as a doctor, coming of age, I also yearned to make a mark for myself. For several years, I have worked as a dentist in major clinics and hospitals, both domestic and foreign; and in addition to my medical degrees, I have also participated in many intensive training courses to reinforce and refresh my knowledge on the latest updates in the field in other countries. All with a view to serve the end purpose of my desire, that is, to establish a business, a dental clinic specialized in Odonto-stomatology to be more specific, which operates on the basis of the experience and criteria I have garnered over the years. Is it too greedy of me to strive to play my perfect role as both a doctor and a business owner (Grinning)? My goal is not that of any huge financial success or a grandiose career, but simply to effect a change that I felt necessary, an attempt to break from the set boundaries, and by doing so, put my skills to the test and bring them to a higher level.
Then, as a doctor overstepping onto business, were you caught by surprise in the beginning? Anything that turned out not what you expected it to be?
The immense workload it was! Despite my previous anticipation and observation of many similar business operations, I was taken aback by the reality of running my own dental clinic. Back when I was only a doctor, I only had to focus on my sole expertise of treating patients, but now becoming a business owner, I have come to realize how versatile such a role can, or need be. Professional matters aside, a business owner must, to an appropriate extent, attend to, or interfere in every function of the business. Keeping expenses in check is crucial to the survival of small and medium-sized businesses, particularly in their early days, and to do so, the owner has to fill as many internal positions as possible, minimizing expenses while optimizing operational costs. Solutions and strategies must also be carried out in a successive manner, requiring direct involvement and strict supervision from the owner to ensure an effective distribution of the capital flow. Throughout that period, apart from treating patients as a doctor, I also had to take charge of capital management, personnel management, and even customer services or marketing operations… And so, I learned from the reality, despite the lack of training and knowledge in these business areas, until I was confident enough to further expand the clinic and assemble an accompanying crew in the following years.
Looking back now on the development of your clinic, what do you suppose to be the most challenging problem it has encountered?
Honestly speaking, I never considered anything to be too difficult (laughs). Perhaps because I'm that type of person who fears no hardship and actually enjoys and embraces challenges as they come. Objectively speaking, however, a rather notable challenge in this field is human resource. Dentistry is a field with very demanding job requirements, as dentists must possess not only passion and expertise, but also a certain level of physical fitness that would allow them to perform lengthy operations, sometimes for several hours on end. Such requirements do not differ much from those of a surgical doctor, thus making dentists who can meet these expectations an extremely rare find, let alone the insanely high salary range that comes with their top quality, which inevitably takes up a sizable portion in your salary budget. As a solution to this, while retaining a few senior and committed doctors in key positions, I would opt to recruit young doctors with great potentials and train them, giving them the time and opportunity to hone their skills and become top-tier doctors. This might be a time-consuming approach, but in return I will have built for myself a collective of experienced and professional dentists; I will have had the time to connect with them on a deeper level, and they the time to understand and resonate with the clinic's business philosophy, while allowing for a more consistent and effective distribution of the salary budget.
It is true, though, that dealing with challenges in business is just like facing the endless ocean waves. As soon as you get up from the last one, the next is already crashing into you. Take personnel for example, like fledglings who have fully grown their feathers, some will eventually decide to leave the nest, leaving me to the perpetual task of training their replacements. I am mentally equipped to embrace obstacles as they come, for that is the part and parcel of running a business. That being said, and perhaps thanks to good fortune, my business has enjoyed a stable and sustainable development over the last 6 years, bringing together a team of committed staff who share and understand their leader's ideology.
Besides the knowledge on your expertise and on administration that needs to be constantly updated, is there anything else that you need to learn as CEO of a dental clinic?
Being the CEO of a dental clinic has made me realize the constant need to "adapt" and "change". These are the two learning and training areas that I need to practice on a daily basis, in addition to acquiring new business administration knowledge. I was quite confident at first when starting out this business model, but over the course of its execution, I began to realize that many things were no longer appropriate and needed changing to suit the current trend and market. That was when I learned to lower my ego and accept the fact that not all my methods are perfect from beginning to end, and when the time comes, I need to let go of the obsolete and look for new solutions, as long as the business' core values are preserved.
As a reminder to keep me on track with my original ideal, I often ask myself the reason why I started out this clinic, and what core values I wish to establish with it. The course of business operation will be much smoother if the leader always sets a clear vision on the values they wish to pursue. On these grounds, any changes, if need be, shall be implemented with greater ease, while you, as CEO, should let go of any conservative thought and adapt an open mindset for such changes if your business is to make a strong and firm stand amidst this ever-evolving market.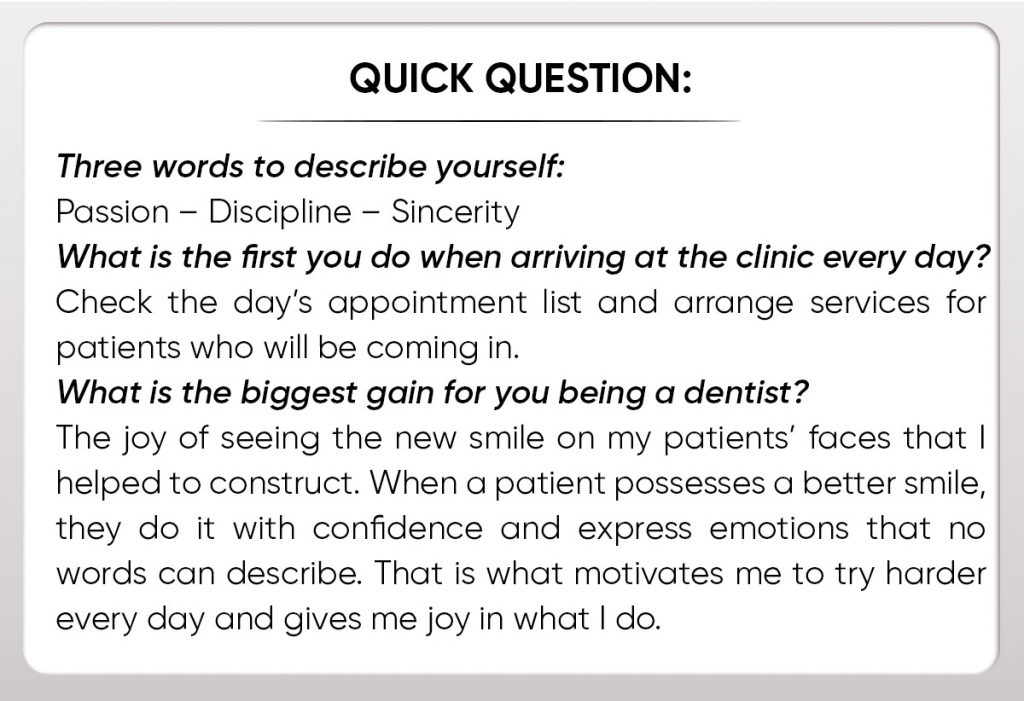 The current market for dental clinics seems to be saturated already as we speak. So, on what basis are you certain about the customer confidence and return rate for your clinic?
Perhaps an undeniable goal when becoming an entrepreneur is earning revenues and making profits. But financial gain has never been my ultimate goal, as I'd always find a way to balance it with other elements, thus allowing me to put my heart and soul to the treatment of my patient. Delivering the best treatment quality always comes first.
In my dual roles, I am constantly faced with a dilemma: on the one hand, as a doctor, I am providing services that are inextricably linked to people's health, while on the other, as a business owner, I must ensure that my business is yielding profits. Having spent the last 6 years running my business as a clinic, I endeavor to maintain the balance between these two roles. I was confused and conflicted at first, and it took me a great deal of contemplation before finally deciding the direction I am currently heading. This underlines, once again, why determining the core values for a business is so important. You may go through changes along the way, but not because you are affected by external factors, but because you are revolving around the pre-set values. I have made several adjustments and changes in order to obtain an overall balance, but the focus has always been on improving our treatment quality. For example, while many clinics are lowering their prices to attract or retain customers, I do not. Instead, I invest even more in new technology, better equipment and facilities, and providing my medical staff further training, all of which will converge into an elevation in service quality. That, I believe, is the right way to enhance your values and deservingly earn your customers' confidence.
Dentistry is a field where both health and aesthetics are in demand. How about Anna Trần, do you prioritize one over another when consulting your patients?
As time passes, our clinic's target client become more and more specific. In my observation, people who pay more attention to their outer looks than their health would not opt for Platinum Dental (Grinning). I founded this dental clinic with a view that my treatment will always be the most appropriate for people, no matter why they come to me in the first place, be it health or appearance. Without doubt, I will prioritize the former over the latter if it comes down to the ultimate choice, but it would be better if we could obtain both, right? In this spirit, we provide every customer with an individualized treatment plan, with detailed analysis on how their condition is going to be treated as well as the possible outcomes before moving forward with the actual treatment. I always try to remind my staff, and even myself, not to focus on how much more we will make, but on showing our customers how much we care about their health.
Speaking of your profession, there is a Vietnamese saying that goes: "The teeth and hair are the roots of man", what do you think is the "root" of entrepreneurship?
Each business and its owner have their respective direction, but in my opinion, that direction has to be a far-reaching one if the business, and its owner, is to thrive. For the healthcare sector in particular, I believe that commitment is the "root" of everything. Commitment to your employees is demonstrated through the satisfactory compensation for their efforts. In the midst of the Covid-19 pandemic, for instance, where many businesses are suffering and struggling, we are still maintaining a full compensation and benefits policy. If they are still there for you in times of difficulty, they deserve such an appreciation. And then there's commitment to your customers, who have developed a fine and subtle taste for service. In turn, we always strive to improve and refine our products to live up to their trust and expectations. Even when such expectations are not met, it is our principle and duty to offer them a sincere explanation, an example for the commitment to our work.
Were you under much pressure when first starting up the business?
Indeed! I always do my best in everything, but things do not always go your way in business. Whenever a business struggles, it is the owner who keeps tossing and turning over the solution that is most effective and appropriate. As a business administrator, I have realized that my challenge is to maintain my ideology and obtain the business goal with minimum resources. No one wants their business to fail, for we all want to accomplish something in return for the efforts we exerted. It can feel lonely, having to overcome everything on your own, but then again, no one knows what you want better than yourself. You may seek advice from others, but only you and you alone can overcome the reality you are facing.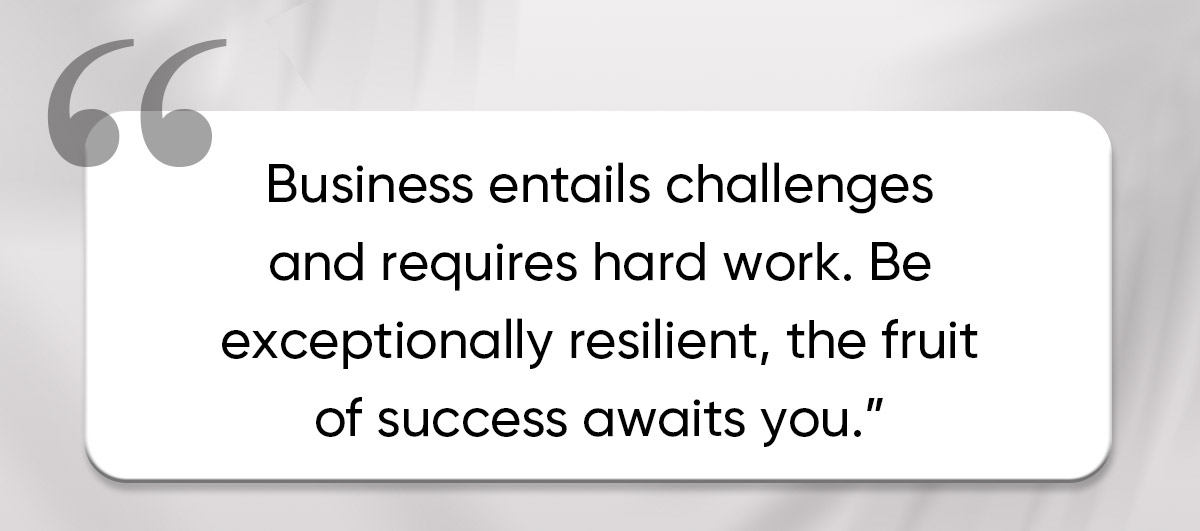 So how did you manage to overcome those moments and keep moving forward unwaveringly?
My method is to exercise. Exercising helps improve my mood significantly, as it relieves me of all negative energy, entering my body and mind into a state of clarity in which I can identify everything standing in my way and look for a solution. I surround myself with endless questions, and even now when everyone considers my business a successful one, I still doubt whether it is stable enough. Anna Trần always try to do things better, which is why challenges are inevitable. What matters here, though, is whether or not I have the strength and composure to realize what must be done to get me through such a trying time and emerge as a full-fledged and powerful businesswoman.
What do you take most pride in throughout this whole time being a businesswoman?
The fact that no difficulty can stand in my way or wear me down. Right from the day this clinic was opened, I have considered it an endless journey on which I must never stop fighting. I always bear in mind that the road is still long, and challenges are waiting ahead. And through these trials, the finest qualities of a leader are defined, among which are creativity and discipline. For me, a business owner's creativity is essential, which provides you the flexibility and open-mindedness to adapt to an ever-changing environment. The more creative your business, the greater its development compared to others. And then reinforce it with discipline, which will keep your creativity in check and organize your affairs in an effective manner.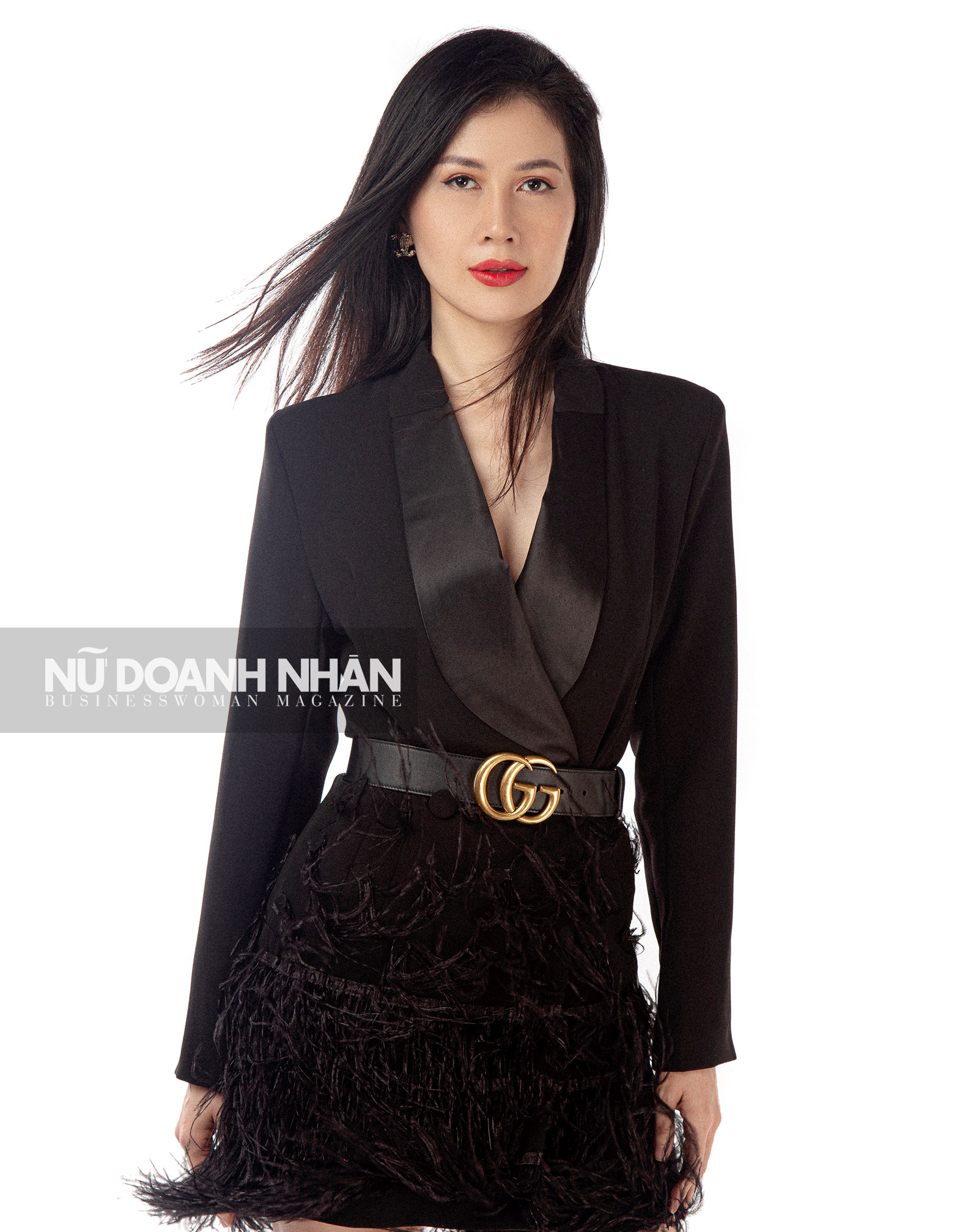 Nowadays, most successful women know how to balance their life and preserve their beauty, and you are one of them. But how does businesswoman Anna Trần personally indulge herself?
My life is, in fact, quite simple and "healthy". The first thing I do after waking up is doing exercise. This helps me maintain my energy throughout a long day's work and benefits both my physical and mental well-being. I suppose that maintaining balance and preserving one's beauty depends mainly on one's discipline. When you set out to achieve something, you must be serious in doing everything to achieve it. Do not go easy on yourself and make compromises with your habits. That is one of the traits of successful people. In addition, knowing how to keep in shape and become more beautiful will give you more positivity and confidence in life. I also enjoy traveling. This is my way to hit the pause button and discover new innovative ideas along the way. I tend to look around and see how people work there and find out what I can apply to the clinic to encourage more customers to return to our service. Moreover, I do take "indulgence" in the act of giving. When you give people something, they are happy for it, but the one who is even happier is yourself, and I believe that is how "giving is receiving".
But in your opinion, is there a time when we should start enjoying life? And do we need to learn how to do it?
There are only 24 hours in a day, and there is only so much we can do in this given time, so if you've been working hard for your passion, allow yourself a moment of indulgence. I believe that success starts with self-understanding. Once you have realized what you want and love, you will be able to set up your course and arrange your priorities, including enjoying your life. I do believe that we need to learn how to enjoy life, because life is beautiful, you must discover and live it yourself. When you are 60 or 70, there is nothing else you could do but regret the things you haven't done. So, travel more, see more, stop being that conservative know-it-all. I believe that there is more to life than just work. Strive for your personal goal, enjoy your life, and enrich your experiences, that's one way to find freedom in this life.
Being a business woman who adores beauty, what wishes would you give to us of the fair sex?
To other businesswomen, and especially female start-ups, I would like to let you know that business entails challenges and requires hard work. Be exceptionally resilient, the fruit of success awaits you. Overcome obstacles and enjoy leaving them in hindsight. But do not forget the joys in life, for all work and no play is not a woman's way. Only happiness and joy can put the smile on your face and the fire in your heart, to keep fighting relentlessly for the thriving of your business.
Text: JENNI VÕ, HỒNG ĐẶNG | Translated by HÒA TÔN | Photo: THẠC TRƯỜNG GIANG | Makeup: MỸ NHƯ
Copyright© All Rights Reserved.
Read more:
Comment